MEET SIONA BENJAMIN: TRANSCULTURAL, INDIAN-JEWISH ARTIST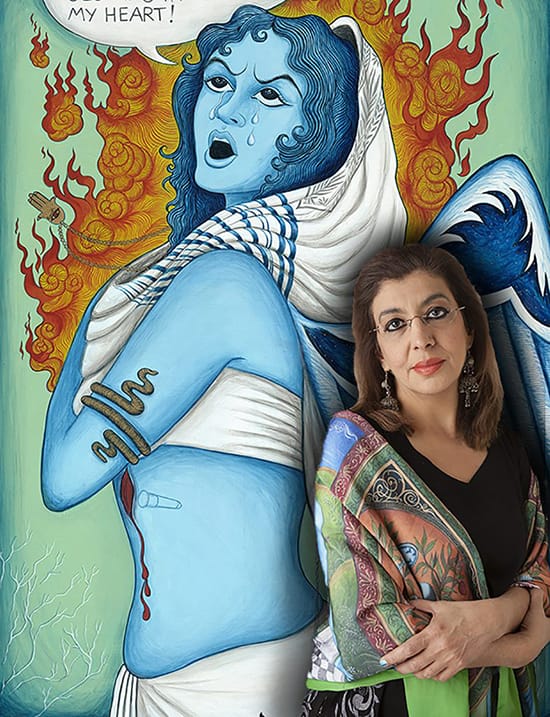 As a Bene Israel Jew from India now living in the United States, I am a Jewish artist creating cross cultural and transcultural art. My perspective bridges the traditional and the modern, and sparks discourse across cultures.
My family gradually dispersed, mostly to Israel and America, but my parents remained in India. I still recall the ornate synagogues of my Bombay childhood: the oil lamps, the velvet-and-silver-covered Torahs, a chair left vacant for the prophet Elijah. Having grown up in a Hindu and Muslim society, educated in Catholic and Zoroastrian schools, raised Jewish in India, and now calling America home, I have always had to reflect on cultural boundary zones.
So while I am a Jewish artist, my perspective remains transcultural and multicultural at heart. I combine the imagery of my past with the role I play in America today, making a mosaic inspired by illuminated manuscripts and multicultural mythology.
Many blue-skinned characters populate my paintings. This self-portrait of sorts takes on many roles through which I explore ancient and contemporary dilemmas. These characters enact their stories – often recycling myths from various cultures and religions — becoming symbols of a timeless global identity free of prejudices and boundaries.
Siona Benjamin has an MFA in painting from Southern Illinois University-Carbondale, Ill., and an MFA in theater set design from the University of Illinois-Urbana/Champaign. She has exhibited in the United States, Europe and Asia.
She was awarded a Fulbright Fellowship in 2011 to India, and a second Fulbright fellowship in 2016-17 to Israel. As not just a Jewish artist but also as one who crosses cultural boundaries, she's received praise in The New York Times, The Chicago Tribune, The Philadelphia Inquirer, The Financial Times, The Boston Globe, Art in America, Art New England, Art and Antiques, ArtNews, Moment magazine, The Times of India, The Mumbai Mirror, Marg Magazine, and other publications.
Her multicultural art has also been featured in The Jewish Week in New York City and New Jersey, The Jerusalem Post, The Times of Israel, and other publications.